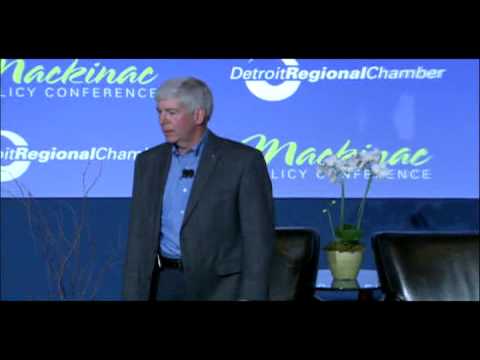 Putting Michigan on a path to long-term success requires cohesiveness between state and local leaders Gov. Rick Snyder said — honing in on one of the 2015 Mackinac Policy Conference pillars. A key component of that work involves coming together on sustainable economic development programs for transportation infrastructure funding, talent development and fiscally responsible energy policies.
The Governor also called on leaders to reform education in Michigan, accentuating the fact that Michigan's comeback requires access for all students who shouldn't have to struggle to make decisions based on educational silos. Snyder also reinforced the importance of skilled trades awareness in the state.
"We talk about income inequality a lot in this country. The easiest way to eliminate income inequality is offering honorable, well-paying job opportunities," Snyder said. "Let's make Michigan the leader in income quality again."
Turning attention to state and local government, Snyder said Michigan continues to be "the comeback state" — highlighting the fact that Michigan's economic health ranked second in the nation. However, the Governor acknowledged that long-term sustainability requires efficient, effective and accountable government.
"We can do better," he said, suggesting that Lansing must move away from a mindset of "creating a program for every problem."
"We need to help people with dignity and move from a culture of programs to people. We have to solve the root cause of a problem so people can be successful again on their own," he said.
Snyder closed his remarks by echoing his call from last year's Conference, encouraging attendees to be "loud and proud" about Michigan's bright future — a 2014 Mackinac Policy Conference To-Do List item.