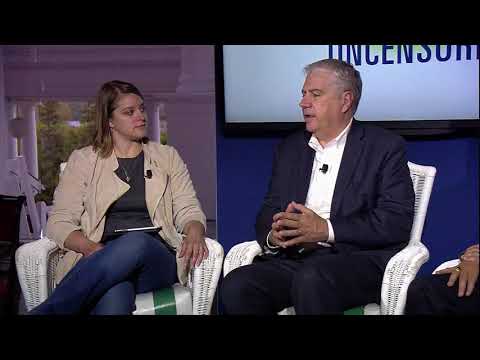 For the second year, more than 20 statewide thought leaders offered their unbridled opinion on eight hot-button issues on the minds of attendees during the fast-paced Morning View: Mackinac Uncensored session to close out the 2018 Mackinac Policy Conference on Friday. Panelists tackled everything from the Michigan governor's race and midterm elections, to transit, roads and President Trump. Read what panelists said here.
Does Business Have a Political Party?
It's no secret that the Grand Old Party has long been thought of and directly associated as the party of business. Lower taxes and fewer regulations have been the foundational bedrock that have tied the Republican Party to the business community.
In an age where business leaders are taking up the mantle on issues like improving K-12 education, building a regional transit system, and increased funding for infrastructure and roads, does that adage still hold true? Today, which political party best speaks to the business community and is aligned with their priorities?
In a discussion moderated by Bridge magazine's Lindsay VanHulle, business leaders Dennis Cowan, partner at the law firm Plunkett Cooney, and Ron Hall, president and CEO of automotive supplier Bridgewater Interiors LLC, shared their thoughts.
Cowan, a former mayor of Royal Oak and chairman of the Oakland County Republican Party, contended that the GOP is still the most important voice for business. At both the state and federal level, Republicans ushered in sweeping tax reforms and legislation to improve the larger business climate. Both Gov. Snyder and President Trump are also former businessmen themselves. However, Hall was quick to point out that, in Michigan, the business community is increasingly focused on issues traditionally championed by Democrats.
But as both parties push further to their extremes, panelists found common ground in the business community's ability to be a moderating force in politics. Furthermore, they agreed that the state should maintain the course and fiscal responsibility established by leaders like Snyder, Wayne County Executive Warren Evans, and Detroit Mayor Mike Duggan.
Predicting the Gubernatorial Election
With little over two months until Michigan voters head to the polls to cast their support for a candidate in the gubernatorial primary election, there is no clear standout from either the Democrats or Republicans. That was the consensus from panelists Bill Nowling, managing director and partner for Lambert, Edwards & Associates, and Shaun Wilson, senior vice president for Truscott Rossman. Drawing on historical data from past elections, panelists acknowledged that Republicans have an uphill battle but there are no guarantees of a "Blue Wave" if Democrats can't mobilize their base to get voters to the polls.
In discussing the Gubernatorial Debate: Detroit Regional Chamber 2018 PAC Reception on Thursday, Nowling and Wilson said Attorney General Bill Schuette and former state Sen. Gretchen Whitmer had the most polished responses to questions.
"I like to say candidates don't really win debates, they survive debates," Nowling said. "There still is no clear message that separates any of the candidates. Each candidate spoke to their base with very partisan, standardized answers."
The session was moderated by Rick Pluta, managing editor and state capitol bureau chief for Michigan Public Radio.
Forecasting Congressional Races
In a discussion moderated by Michigan Public Radio's Rick Pluta, political pundits Zoe Clark, co-host of "It's Just Politics," and Howard Edelson, president of the Edelson Group, looked into their crystal ball to predict the outcomes of Michigan's upcoming congressional elections.
Many commentators have forecasted an upcoming "Blue Wave" in November, bringing Democrats control of the U.S. House of Representatives and possibly the Senate. According to Clark and Edelson, two bellwether races for any possible Democratic swing are the 8th and 11th congressional districts.
In the 8th district specifically, despite a strong incumbent candidate in Rep. Mike Bishop, changing demographics in suburban Oakland County and a groundswell of women candidates could push a well-run, moderate campaign by former Obama administration official Elissa Slotkin to flip the district from red to blue.
Following the retirement of long-serving Rep. John Conyers, one of the most watched races in Michigan is the 13th district. Despite prominent candidates like state Sen. Ian Conyers, nephew of John, Detroit City Council President Brenda Jones, who has the endorsement of Mayor Mike Duggan, and former state Rep. Rashida Tlaib, the crowded field could divide the large Detroit voting block and allow Westland Mayor Bill Wild to sneak up the middle and become the first congressman for that district not to live in the city.
Despite the prognostications, both Clark and Edelson pointed out that, after the wild and unpredictable 2016 election, no one knows what will happen in the election. In today's politics, anything can happen.
The Urban-Rural Divide
When it comes to equal opportunity in urban and rural areas, compromise is key. That was the underlying message from Jason Allen, state director of the U.S. Department of Agriculture and Rural Development, and Nicole Wells-Stallworth, assistant vice president of government relations at Oakland University.
"We are dependent upon some of the agricultural areas that support our urban areas," Wells-Stallworth said. "I don't think that it's at the expense of our urban areas. I think we need to try and be more cognizant when making decisions to support the entire state."
As the state moves closer to autonomous vehicle deployment, one of the biggest challenges will be funding the necessary infrastructure needed to power self-driving vehicles on uncharted rural roads.
"There are going to be challenges, but as we expand our broadband network, hopefully mobility will catch up," Allen said.
The conversation was moderated by Detroit News Editorial Page Editor Nolan Finley.
What Issues Are on the Ballot?
From legalizing recreational marijuana, to shutting down an oil pipeline, this year's Michigan ballot proposals may offer voters a dizzying array of choices when they head to the polls. Panelists Shelli Weisberg of the American Civil Liberties Union of Michigan, and John Pirich, partner at the law firm Honigman Miller Schwartz and Cohn LLP discussed how grassroots groups struggle to get issues on the statewide ballot because they must rely on paid petition circulators, which are costly and can be confusing.
"There is just too much information; people don't know what they are voting for. Sometimes these paid circulators aren't even from Michigan," Pirich said.
Weisberg disagreed, stating "Voters are smart and very aware of how our democracy is not working. I think people are more engaged than you think they are."
This session was moderated by Stephen Henderson, host of Detroit Public Television and WDET 101.9.
Regional Transit
Wayne County Assistant Executive Khalil Rahal and Paul Glantz, co-founder and chairman of Emagine Entertainment Inc. tackled the topic of regional transit. While Glantz acknowledged the importance of providing safe, reliable transit for seniors and people with disabilities, he said he would rather see the state focus more dollars on autonomous vehicle research.
"We need to focus on mobility. Autonomous vehicles will help the disabled and elderly. Who wants to sit in the cold and wait for the QLine? We don't need a rapid transit system. What's wrong with increasing the buses until then?"
Rahal said millennials are putting down the keys and don't want to drive.
"The lifetime of a bus can be eight to 10 years. We need something more long-term. We will continue to lose out on the Amazons and anyone else until we get transit. We can't afford to wait until the Jetsons bring us the future," he said.
This panel was moderated by Craig Fahle, host of "The Craig Fahle Show."
Fix Our Roads
Dennis Miller of Honigman Miller Schwartz & Cohn and Oakland County Commissioner Dave Woodward both agreed the solution for Michigan's roads to spend more money.
During the conversation, which was hosted by WWJ Newsradio 950's Charlie Langton, panelists discussed different road funding methods while debating the gubernatorial candidates' approach to the issue.
"It's not the money, it's the amounts," said Miller. "You can't fix roads without money and you can't generate money in this system we're operating under. I firmly believe we're doing it the wrong way. We need to figure out road designs and which ones need to be addressed first. Then, we need to move to bonding and raise the sales tax."
While raising the state sales tax may be met with resistance, Woodward said he believes the public is in favor if it presents a viable solution.
"I think there is a general consensus that we probably need to double the amount of investment in our roads every year for at least the next decade to fix them and get them in a position to extend their duration," he said. "Voters will support it if there is a reasonable plan to fix the problem."
Road repair was a trending topic during the #MIGovDebate at the 2018 Mackinac Policy Conference.