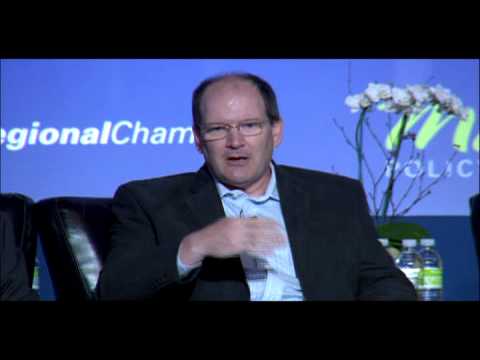 Investing in transportation infrastructure is crucial to the state's comeback and economic development strategy. How that happens will require compromise and new tax revenue, as discussed in a panel on how to fix Michigan's roads.
In a discussion moderated by Christy McDonald, "MiWeek" anchor for Detroit Public Television, panelists called for less arguing and more action in Lansing. Citing a Michigan Department of Transportation Task Force report, S. Evan Weiner, executive vice president and chief operating officer of Edw. C. Levy Co., said that in 2008 the magic number to properly fix Michigan's roads would've cost $1.2 billion. Now, Weiner says, that number has increased to $1.5 billion and is growing daily — adversely impacting the state's ability to attract jobs, talent and international business investment.
"We need a legislative solution and we need it now," he said.
Doug Rothwell, president and CEO of Business Leaders for Michigan, said the state's roads are a significant deterrent to economic development in opening remarks. The solution, he said has to be big enough to solve the problem, require warranties, use a dedicated and sustainable revenue source from users of the system, and should not adversely impact other areas that help create jobs.
Joseph Lehman, president of the Mackinac Center for Public Policy, agreed with the vision and scope of the problems, but suggested "well-reasoned cuts" to state programs. However, that solution was not embraced by the other panelists.
"To me that sounds like robbing Peter to pay Paul" said Gregory Ioanidis, vice president of business unit finance and rates for ITC Holdings Corp.
Westland Mayor William Wild called for a cohesive road funding plan that includes input from local mayors across the state.
"As we work toward a solution, I would encourage state leaders to work with mayors. We're the closest to the people and we hear their opinions on road funding solutions. Our perspective at the table is much more valuable than polling and focus groups."