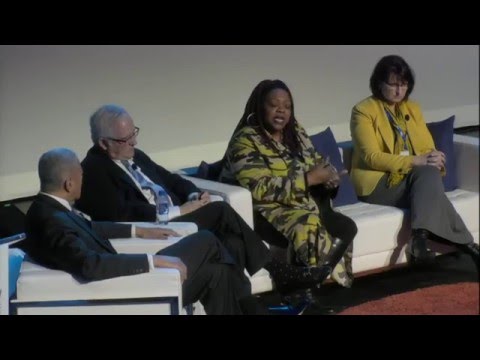 Lack of reliable transportation. No accountability. Burgeoning debt.
These are just a few of the issues parents are forced to deal with on a daily basis when it comes to Detroit's complex education system, according to parent Arlyssa Heard, education organizer for 482Forward. Heard, who removed her son from DPS and enrolled him in a charter school further from her house due to classroom overcrowding, said parents are fed up with lack of oversight.
"If we had quality schools where I lived, I wouldn't be on this stage right now. If we didn't have 45 kids in each class, my story would be different. The problem is we don't have quality, accessible choices for our children," Heard said.
In the panel "DPS Spotlight: The Legislative Approach," community and educational leaders tackled potential solutions to improve accountability and reform the city's education system. Chief among the solutions is the development of a Detroit Education Commission, recommended by the Coalition for the Future of Detroit Schoolchildren and adopted by Gov. Snyder in his proposal to reform Detroit Public Schools. The Commission would oversee the opening and closing of traditional public and charter schools. Snyder's plan, currently under consideration in the House and Senate, also calls for increasing access to quality schools by allowing a chief education officer to hold low-performing schools accountable and reward and increase the number of high-performing schools.
"We cannot build a strong city without a good, solid school district," said Karen McPhee, education advisor to the Governor.
Clark Durant, founding chair of The New Common School Foundation, said every opportunity should be made for parents to choose schools based on where the best teachers are located and not whether or not safe, reliable transportation is available. Durant said he would like to see students in Detroit issued an Uber card with state-certified drivers who can transport them to the school of their choice.
Durant, who founded Cornerstone Schools, said he would also like to see education decision-makers tour successful school districts throughout the region to learn best practices for student development that can be easily replicated in Detroit schools. Other recommendations include more focus on the skilled trades, hiring experts to teach in classrooms regardless of certification requirements, and removing politics from the education equation. The panel was moderated by WJBK FOX 2 anchor Huel Perkins.